At Willow Den Scotland we aim to protect children at all times. We recognise that accidents or incidents may sometimes occur. We follow this policy and procedure to ensure that all parties are supported and cared for when accidents or incidents happen; and that the circumstances of the accident or incident are reviewed with a view to minimising any future risks
First Aid Procedure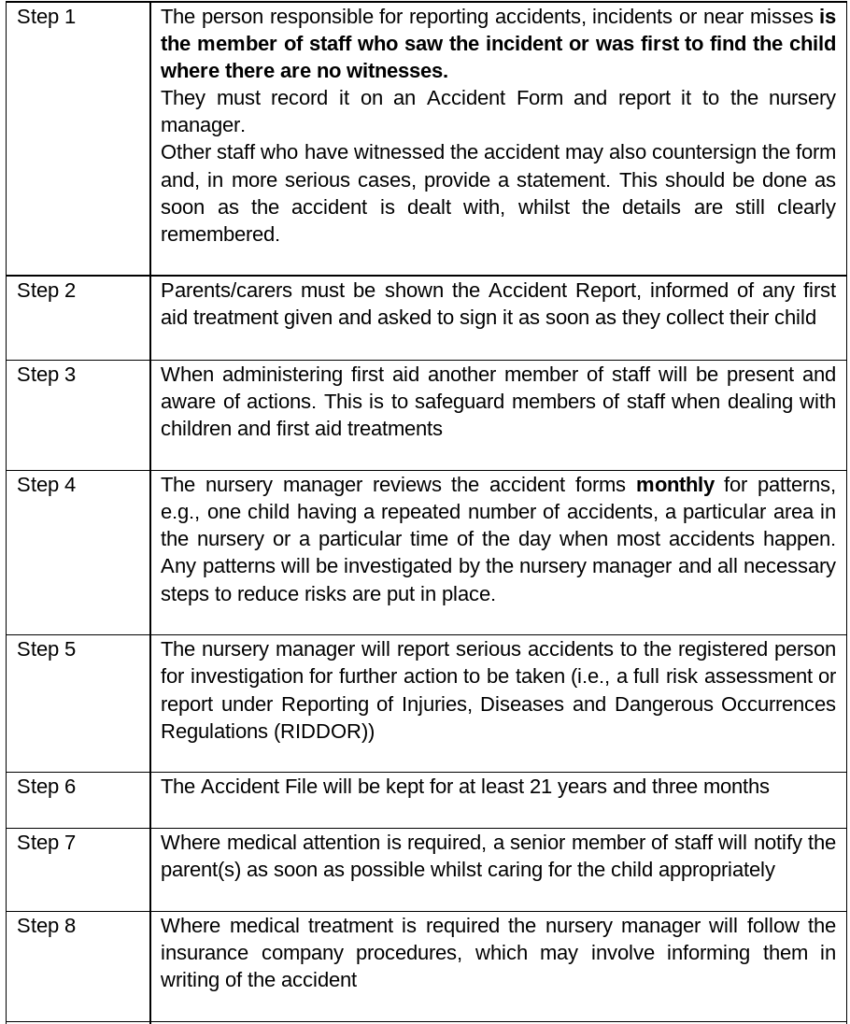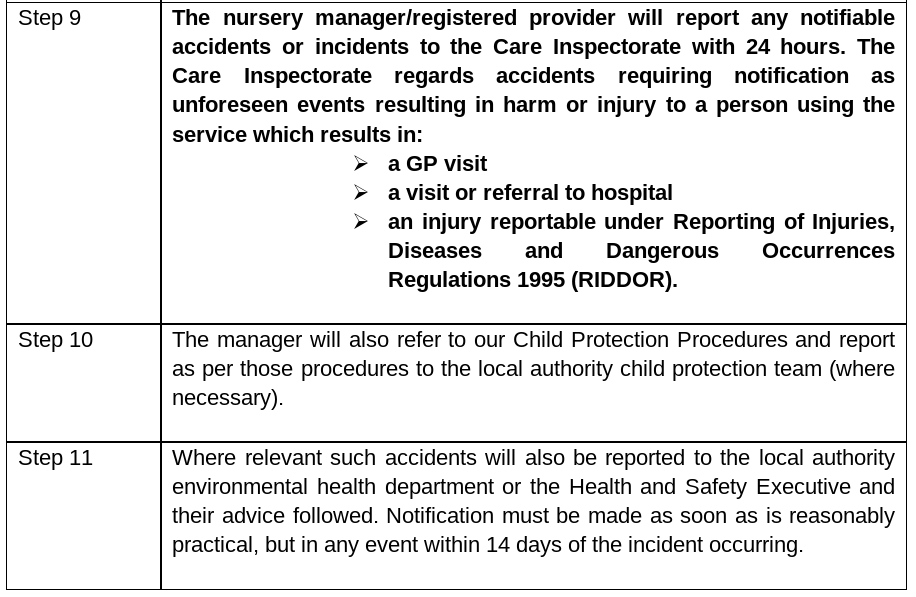 Location of accident files
Accidents and Incidents are recorded stored on our online software system. This allows staff to log any accidents and obtain signatures from both staff and parent.
Hard copies of accident forms are kept within the grey kiosk in the Health and Safety folder. Any completed hard copies will be stored within the locked box in the kiosk.

Transporting children to hospital procedure
The nursery manager/staff member must: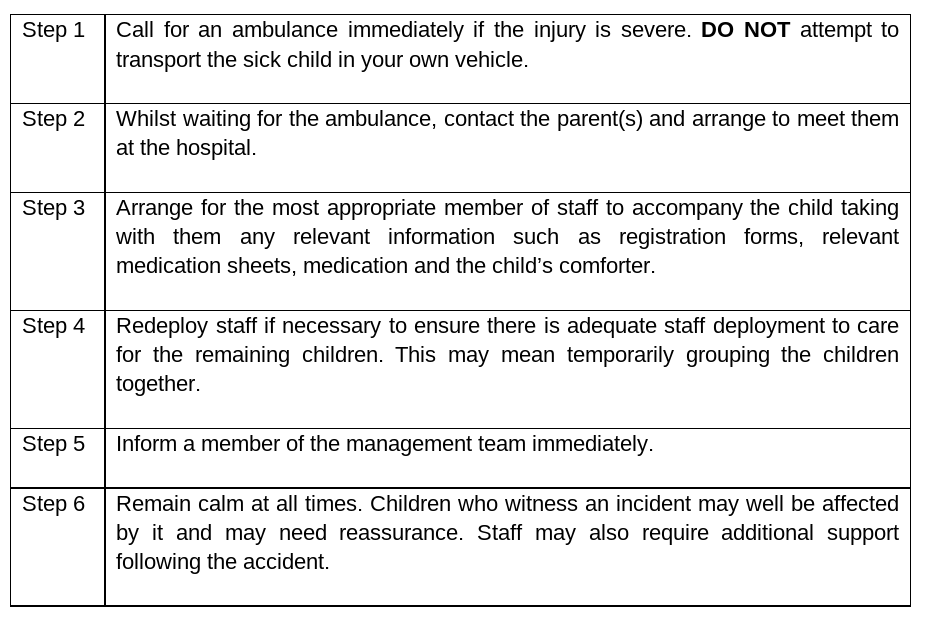 *If a child has an accident that may require hospital treatment but not an ambulance manager/senior staff should contact the parents immediately to collect and transport their child to hospital. If staff are unable to reach parents, they should then contact NHS 24 Tel. 111 for advice.
First aid
Responsible Person
The appointed person responsible for first aid is Nursery Manager, Amy McGlinchey
Guidance on how to maintain first aid boxes can be found on the Health and Safety Executive website https://www.hse.gov.uk/simple-health-safety/firstaid/what-to-put-in-your-first-aid-kit.htm
First Aid Boxes: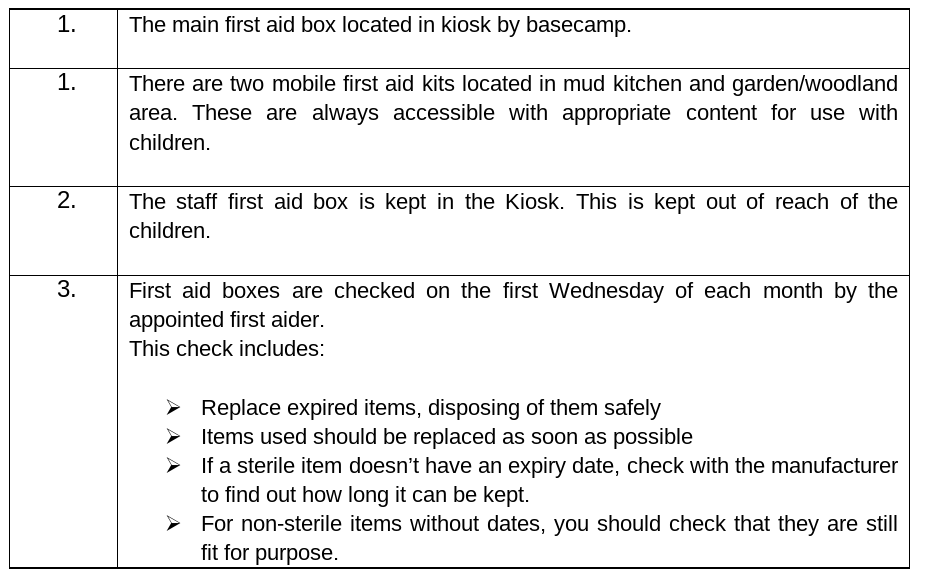 First aid boxes should only contain items permitted by the Health and Safety (First Aid) Regulations Act 1981, such as sterile dressings, bandages and eye pads.
The contents of the first aid kit should be based on a first aid needs assessment as per the HSE website, www.hse.gov.uk/simple-health-safety/firstaid/what-to-put-in-your-first-aid-kit.htm
As a guide, where work activities are low-risk (for example, desk-based work) a minimum first aid kit might contain:
an inventory so staff know what the box should contain
a leaflet with general guidance on first aid (for example, HSE's leaflet Basic advice on first aid at work)
individually wrapped sterile plasters of assorted sizes
sterile eye pads
individually wrapped triangular bandages, preferably sterile
safety pins
large and medium-sized sterile, individually wrapped, unmedicated wound dressings
disposable gloves
First Aid Training
All permanent practitioners are trained in paediatric first aid and this training is updated every three years.
At least one staff member is 'First aid at work' trained.
Health and Safety Executive and Minor Cuts and Plasters
Extract taken from the HSE website 12/11/2021
There is no rule that says a responsible adult can't put a plaster on a child's minor cut. Some children do have an allergy to normal plasters. If you know a child is allergic you can use the Hypo-allergenic type of plaster. The important thing is to clean and cover the cut to stop it getting infected.
Food Safety and play
During mealtimes and food play we refer to 'Good practice guidance: prevention and management of choking episodes in babies and children.'
Personal protective equipment (PPE)
The nursery provides staff with PPE according to the need of the task or activity. Staff must wear PPE to protect themselves and the children during tasks that involve contact with bodily fluids. PPE is also provided for domestic tasks. Staff are consulted when choosing PPE to ensure all allergies and individual needs are supported and this is evaluated on an ongoing basis.
Dealing with blood
We may not be aware that any child attending the nursery has a condition that may be transmitted via blood. Any staff member dealing with blood must comply with Care Inspectorate Infection Prevention and Control in Childcare Settings.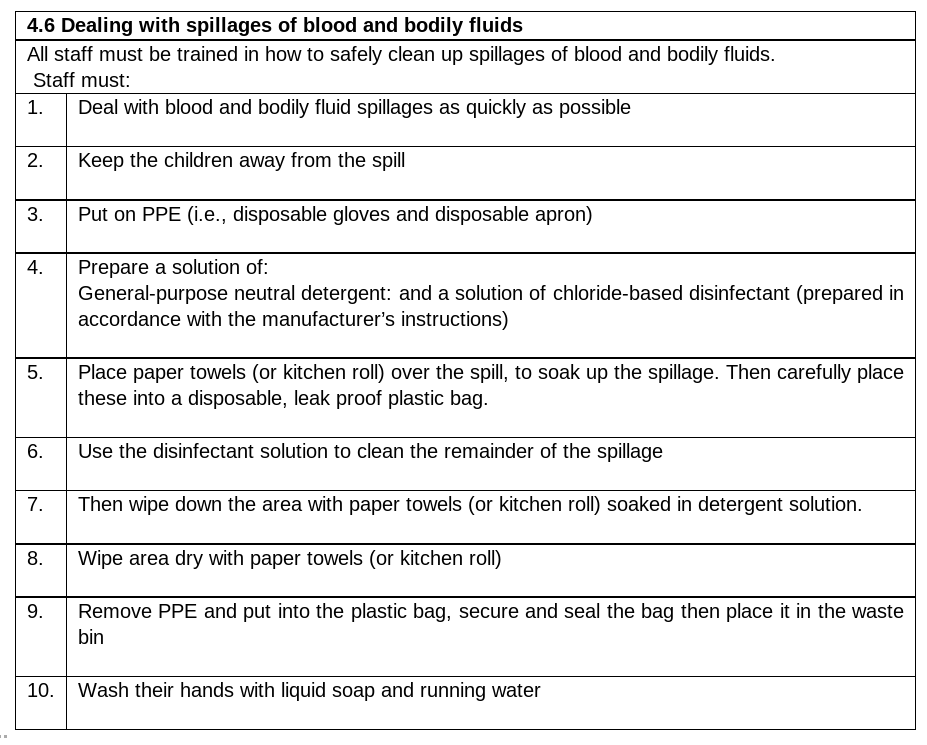 Needle puncture and sharps injury
We recognise that injuries from needles, broken glass and so on may result in blood-borne infections and that staff must take great care in the collection and disposal of this type of material. For the safety and well-being of the employees, any staff member dealing with needles, broken glass etc. must treat them as contaminated waste. If a needle is found the local authority must be contacted to deal with its disposal. In the interim it would be stored in our sharps box.
More information on sharps management:
https://www.infectionpreventioncontrol.co.uk/content/uploads/2021/05/DC-14-Safe-management-of-sharps-April-2021-Version-2.00.pdf
First Aid and Trips and Outings
When children are taken on an outing away from our nursery, we will always ensure they are accompanied by at least one member of staff who is trained in first aid. A first aid box is taken on all outings, along with any medication that needs to be administered in an emergency, including inhalers etc.
We treat our responsibilities and obligations in respect of health and safety as a priority and we provide ongoing training to all members of staff which reflects best practice and is in line with current health and safety legislation.