HSCS: 1.20, 1.4, 4.11, 5.4
Willow Den at Spartans has two mains flush toilets for children's exclusive use beside the Dugouts, which include nappy change equipment and we have two 'pop up' toilet facilities located in the garden area for the children to use whilst at play. Children in the mud kitchen will access the garden toilets along the path.
Willow Den Scotland recognises that children will come to the setting in varying stages of development in regarding to toileting; some children may be in nappies, toilet training, completely independent with their toileting or on a varying scale of development. At whichever stage of development, children will be welcomed into the setting and a Care Plan set up to meet their individual toileting needs.
Nappy changing
It is our aim to ensure that children are kept clean and comfortable by being changed and checked on a regular basis. Children will be treated with dignity and respect during nappy changes, ensuring these times take place in designated, private areas. We ask parents/carers to inform us about their child's nappy changing needs during their settle in period by filling out our "All About Me" sheets. This information will then be noted on the child's individual online diary and reviewed/updated when needed. Parents/carers will be asked to provide the nursery with wipes and nappies for their children for the day. Such items will be only used for the child they are intended for. Parents/carers will be asked to provide the nursery with a nappy ointment that practitioners can apply if needed. Nappy ointments will be kept in the children's bag with their name clearly labelled. Parental consent for nappy creams/ointment will be logged on the nursery's online portal during the settle in period. No visitors/students will be permitted to change children at any point.
Nappy Changing Procedure
Our nappy changing procedure is as follows: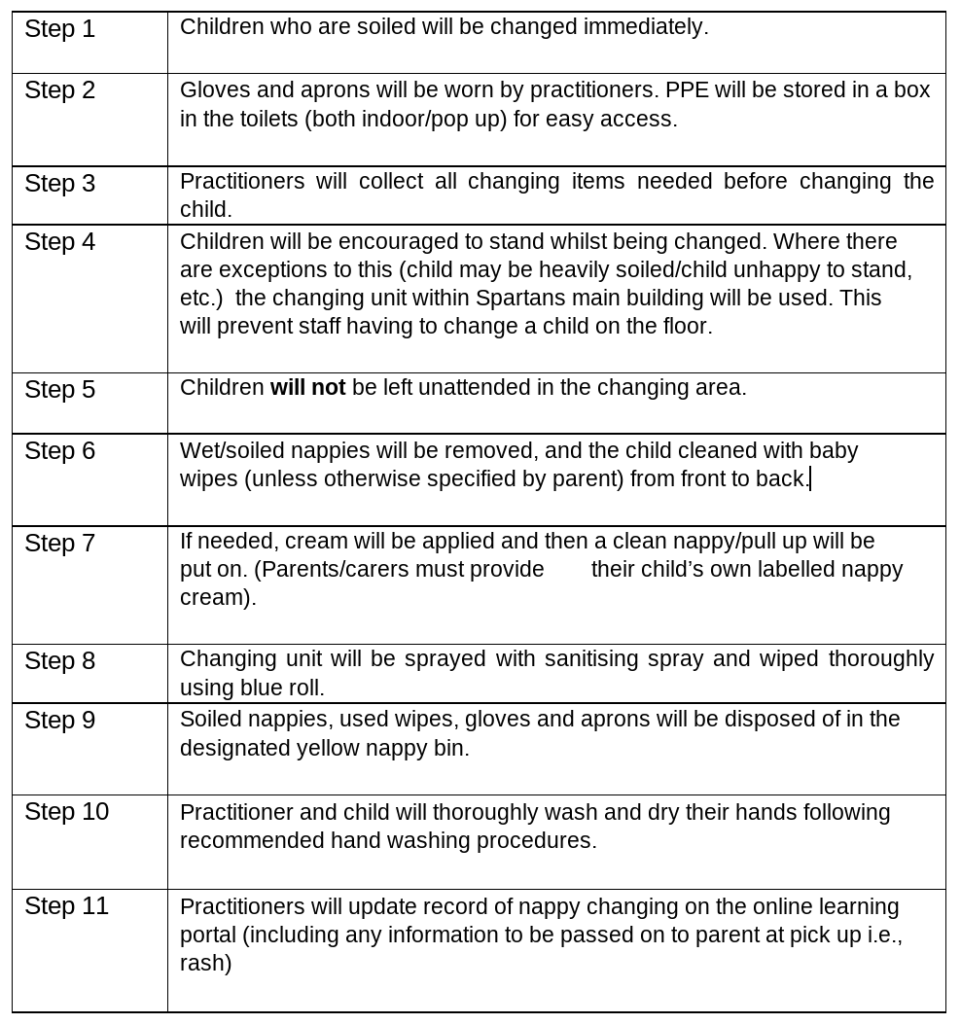 Toileting
We promote independent toileting for all children as they progress through this developmental stage.
No visitors/students will be permitted in the toilet area at any point.
Toileting Support procedure:
Our toileting support procedure is as follows: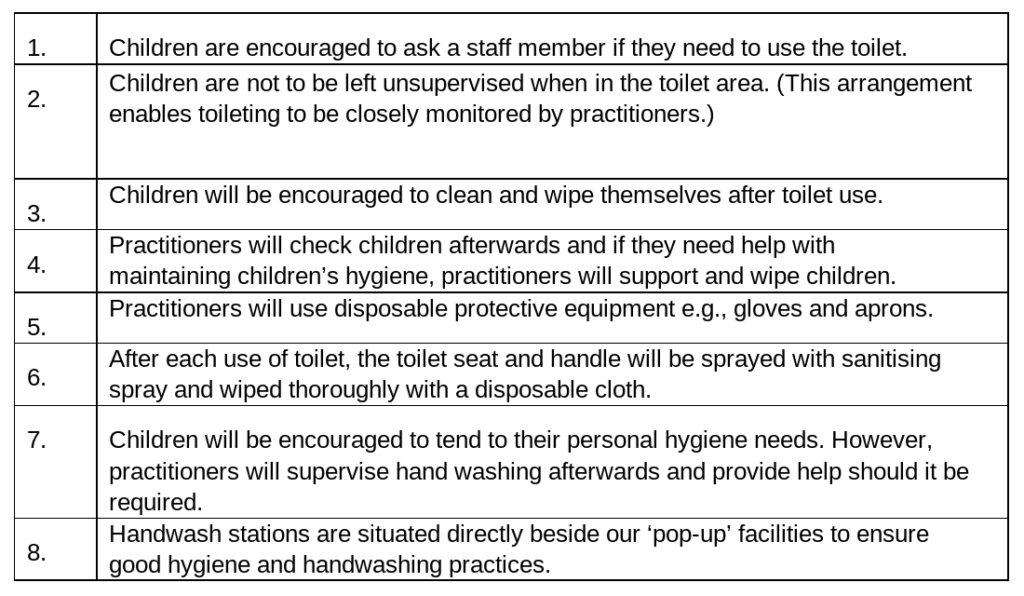 Practitioners will take all necessary measures to safeguard themselves when they are toileting children, any staff witnessing any incidents or concerns regarding children's safety should first ensure the safety of the child, then report the incident immediately to the line manager. All child protection incidents will be dealt with in line with the Child Protection Policy.
Parents/carers may change their child/attend to their child in the toilet/nappy changing area if there are no other children present in the bathroom area. Practitioners will check before permitting access.
Outdoor 'pop-up' toilet
Our outdoor toilets are set up beside a hand washing station in the garden.  The outdoor toilet will be in two small tents and a privacy screen will be used to ensure we are providing dignity and privacy for each child. We use portable camping toilets with flushing systems. At the end of the day the toilet waste will be disposed of down the mains toilet system (or at least every second day and as required) and each unit will be rinsed out as per our Toilet Cleaning Procedures.