HSCS: 3.1, 3.6, 3.7, 3.9, 3.11, 3.16, 3.25, 4.8, 4.27, 5.17 
At Willow Den we give a warm welcome to every child and family on their arrival and goodbye on departure, as well as ensuring the safety of children, parent/carers, visitors, employees, volunteers and students.
Drop Off Procedure for Children being dropped off at Nursery

For sustainability purposes, we aim to be as "paper free" as possible, however we appreciate that technology can fail. To mitigate against IT failure the following process must be followed.
Signing in Contingency plan
To ensure staff have a substitute method for signing children in and out, Manager/senior staff will ensure that blank registration forms are stored in the Health and Safety folder, with an up-to-date copy of children's attendance patterns. Each time a child's attendance is changed, a new sheet will be printed. This register will be used in the same way as the online version and will be updated of any changes automatically as children (or their sessions) are added to the system.
Medication
If the parent requests the child to be given medicine during the day the staff member must ensure that the medication procedure is followed.
Pick Up Procedure for Children being collected from Nursery
If the child is to be collected by someone who is not the parent at the end of the session, there is an agreed procedure that must be followed to identify the designated person.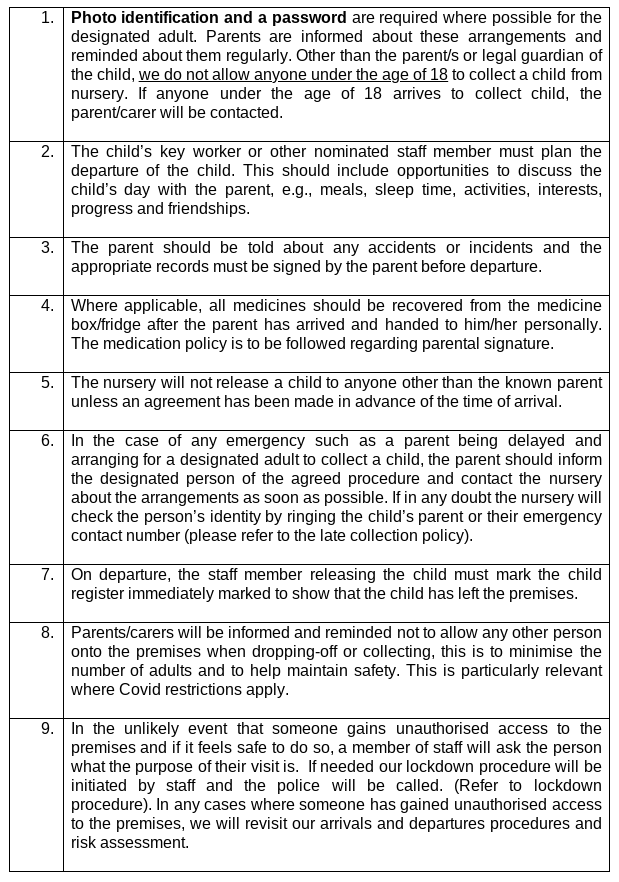 Adults arriving under the influence of alcohol or drugs
Please refer to the Alcohol and Substance Misuse Policy.
Arrivals and departures of visitors
For arrivals and departures of visitors the nursery requires appropriate records to be completed on entry and exit e.g., in the visitors' book. Please refer to the Supervision of Visitors Policy for further information.
Staff, Students and Volunteers
Staff, students and volunteers are responsible for ensuring they sign themselves in and out of the nursery, including on breaks and lunchtimes.