Come along for a nursery taster session at our popular Stay and Play. These sessions are perfect for 2-5 year old's who love adventure, mud pies and exploring our nature in local spaces. Our top tip is dress for the weather, as you know Scotland can have all four seasons in one glorious day. Layers and waterproofs are great as your little one can take them off if they get warm. This is a great way to try an outdoor nursery, meet the team and ask lots of questions.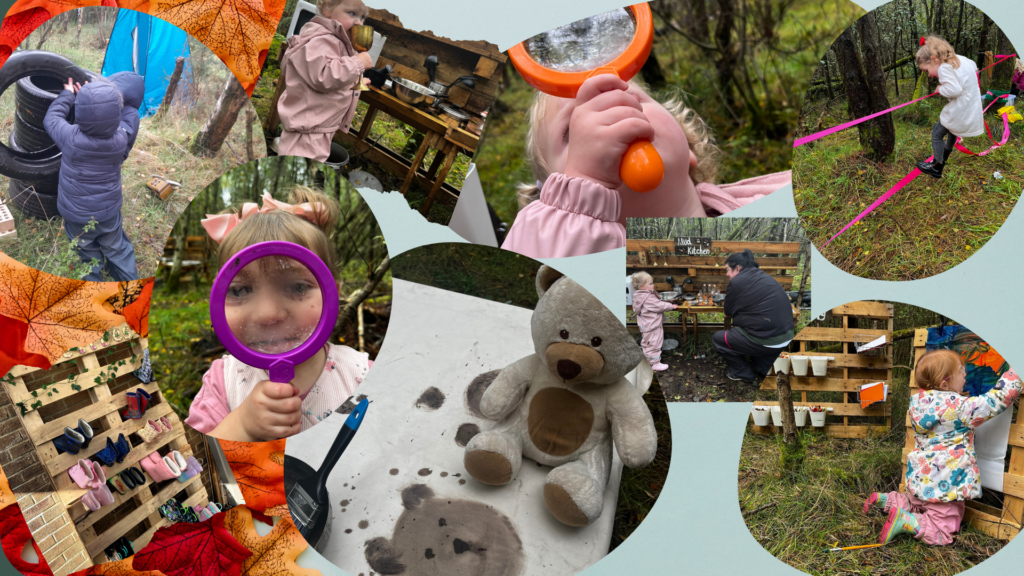 "I just wanted to say thank you for this morning and let you know how much my son enjoyed his time with you. We've not found a class or activity that my son really loves/keeps him amused the whole time until this morning – I think if he could he would've stayed with you all day!"

Stay & Play Parent, April 2023
What to expect:
Woodland play with familiar stories that children love. Children are invited on a journey through stories that support free play in our nature-based locations. The aim is for children to explore, have fun with us and engage with their in their own way. Our qualified and experienced staff are on hand to facilitate throughout. No two Stay and Play sessions are the same.
What to wear:
Sturdy shoes or wellies with good thick socks. The ground is uneven, this encourages children to assess hazards and mitigate risk as some balance is required to navigate the terrain.
Long trousers/thick leggings to protect legs and ankles
Waterproof overtrousers or puddle suits for damp/wet weather
A coat/jacket and hat suitable for the weather (warm ears for the cold days and protected heads in the sun)
For safety and comfort please avoid open sandals and/or bare ankles
There is no fee to sign-up – all we ask if that you come along, join in and enjoy.
To ensure that the sessions are enjoyable and safe for everyone coming along we respectfully advise:
please do not turn up if you have not booked a ticket;
bookings must include the details of all children attending including dates of birth and parental details if they are attending with someone who is not their parent or main carer;
bookings for children under the age of 2 will be accepted only on a case-by-case basis;
the management team reserves the right to cancel a ticket once booked.
Upcoming Dates: