Come along for a nursery taster session at our popular Stay and Play. These sessions are perfect for 2-5 year old's who love adventure, mud pies and exploring our natural world. Our top tip is dress for the weather, Scotland can have all four seasons in one day! Layers are great as your little one can take them off if they get warm. Come and find out what an outdoor nursery really looks and feels like!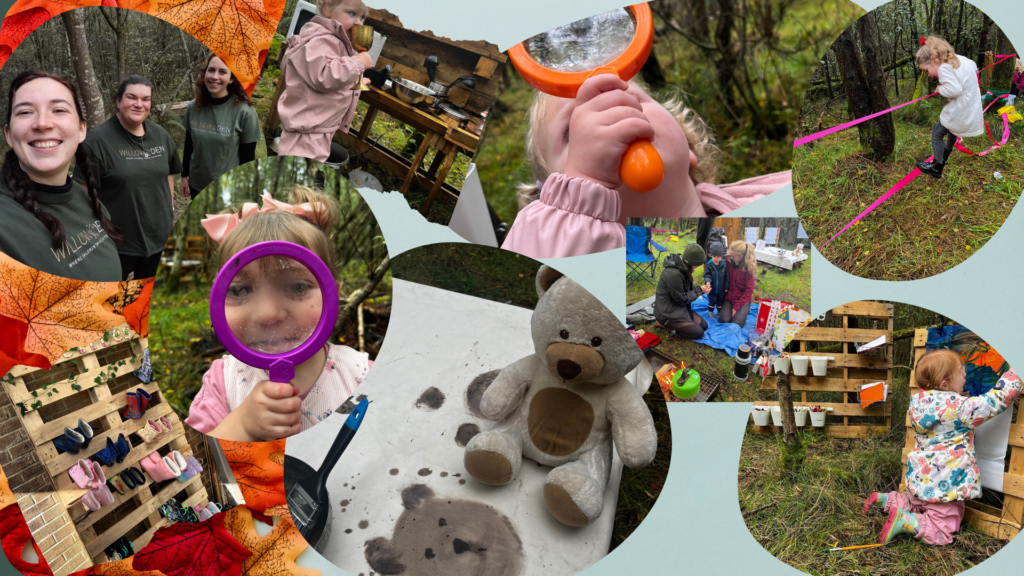 "The sessions are well planned and engaging – my child loves them!"

Stay & Play Parent, November 2021
What to expect:
Come along to one our popular Stay & Play sessions. From Monday 17th October we are extending the sessions due to popularity. Bring along a packed lunch and join us for a group picnic lunch around the campfire!
Familiar stories such as We're Going on a Bear Hunt, The Gruffalo, Foggy Foggy Forest and Once Upon a Time There was a Big Bad Wolf will support the children into free play within our woodland setting. We want children to explore and have fun with us and engage with the activities in their own way. Our experienced staff will be on hand to facilitate throughout. No two Stay and Play sessions are the same!
There is no fee to sign-up – all we ask if that you come along and get stuck in!
To ensure that the sessions are enjoyable and safe for everyone coming along we respectfully advise:
booking requests are not confirmed until you have received a confirmation email from admin@willowden.scot – please do not turn up if you have not received express confirmation you are on the list;
booking requests made less than 48 hours before the session time will not be accepted;
booking requests for sessions on a Monday must be received by 4pm on the previous Thursday;
booking requests must include the details of all children attending including dates of birth and parental details if they are attending with someone who is not their parent or main carer;
booking requests including children under the age of 2 will be accepted only on a case-by-case basis;
management reserves the right to withhold a booking confirmation.
Upcoming Dates:
Wednesday 30th November 10am – 12pm The Falkirk Wheel
Wednesday 7th December 10am – 12pm The Falkirk Wheel
NOW AVAILABLE – Forest Fridays at Willow Den at Spartans
Forest Fridays – 08.15am to 12.30am – drop off sessions starting in October 2022
For more information, to register and book see Willow Den at Spartans page or contact Kathie at admin@willowden.scot